Stand up paddle boarding or SUP is an accessible water sport that is quickly catching on. It is easy to get started, and you are going to love getting a workout while enjoying the breathtaking natural scenery on the water. Here are some of the best spots for SUP with amazing landscapes and no waves.
1. San Diego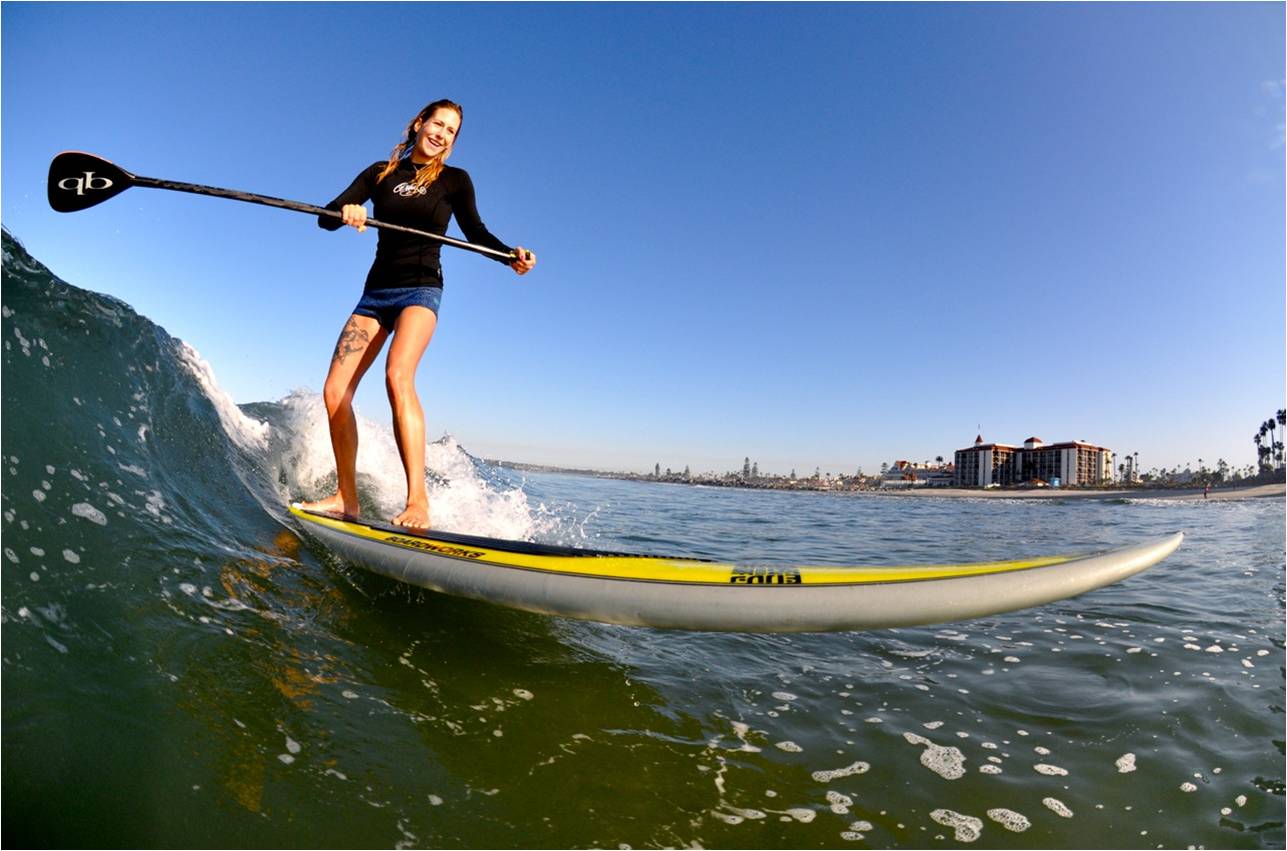 You will find SUP enthusiasts at many beaches and coves around the San Diego area. The La Jolla Caves are one of the best spots for SUP in California since this small beach is entirely sheltered from the surf.
You can expect to get warm weather all year round, and your trip to San Diego will be an opportunity to discover this vibrant city. If you are new to SUP, you can easily find SUP classes and schools in the San Diego Bay and the Mission Bay areas. The Mission Bay would be an ideal spot if you enjoy the natural scenery instead of the city's skyline.
The La Jolla Caves are a popular SUP spot because they are located inside of a marine life preserve. Stand up paddle boarding allows you to quietly approach birds, sea lions, and other wild animals. You can also paddle inside of a cave system for a unique experience.
Once you are done exploring the La Jolla Caves, head to Coronado Island to try SUP with a little bit of surf. This is a safe spot for trying SUP with some wind and surf since there are no sharp reefs in the area.
The Mission Bay is another popular SUP spot. Santa Barbara Cove is a sheltered spot where you can practice SUP fishing. Coronado Island is also worth exploring if you want to admire a breathtaking view of the San Diego skyline and enjoy a quiet environment.
2. San Francisco
San Francisco is home to an active SUP community. You can attend festivals such as the Battle of the Bay to see some of the best SUP athletes racing or attend training sessions.
San Francisco is an ideal destination for beginners thanks to its many Sup schools and equipment rental businesses. There are several spots where you can practice SUP, including:
South Beach Harbor when there is no wind.
The Jack London Square to see San Francisco from across the bay.
Crissy Field to see the Golden Gate Bridge up close.
The nearby small town of Sausalito to enjoy calm water.
The Half Moon Bay to get a chance of spotting seals.
3. Dana Point
Dana Point is a popular California destination for water sports, including SUP. It is one of the most popular harbors for SUP enthusiasts, and it attracts beginners as well as seasoned fans of the sport.
Dana Point is home to the Pacific Paddle Games, one of the largest SUP competitions in the U.S.
Paddling in Dana Point is the perfect opportunity to get acquainted with this activity thanks to the clear and calm water, but you will also find some challenging spots once you get outside of the harbor. You are going to love the Orange County scenery and will get to spot some wildlife.
Baby Beach is one of the best spots for SUP in the Dana Point area. You can sign up for SUP yoga classes if you decide to visit the area.
4. Hood River
Hood River is a well-known spot for windsurfing in Oregon. The area is also ideal for SUP since the river has some calmer spots. However, Hood River might not be ideal for beginners because of the wind and currents.
The Naish Columbia Gorge Paddle Challenge is one of the most exciting SUP races. If you have some experience with SUP, head to Hood River to practice your favorite water sport while admiring breathtaking views of Mount Hood and the surrounding forest.
Other interesting SUP spots in Oregon include Elk Lake, Suttle Late, and the Deschutes River. Elk Lake and Suttle Lake would be ideal spots for beginners.
5. Apostle Islands
The Apostle Islands are a unique SUP destination thanks to their cave system. These islands are located near the southern shore of Lake Superior. Unfortunately, the weather is too cold for water sports in the wintertime.
However, visiting the Apostle Islands in the summertime is an exciting experience if you enjoy wildlife and SUP. Madeline Island is the largest island and offers several SUP equipment rental options.
Stand up paddling is the perfect way to explore the shores of the 22 islands. You will get to see forests, lighthouses, and unique rock formations. Make sure you visit the Apostle Islands sea caves, especially the Devils Island caves.
6. Austin
Austin is becoming a popular spot for SUP thanks to its warm weather and amazing landscapes. The Colorado River that runs south of the city is a calm spot for beginners.
Bring your stand up paddle to the Colorado River to see wildlife up close and enjoy some Texan landscapes. Paddling through the canyons of the Colorado River is a unique experience, and you could plan an entire trip along the river thanks to the different campsites in the area.
If you aren't ready to head out to the Colorado River, there are other SUP spots to explore in the area. The Lady Bird Lake in downtown Austin is a popular SUP spot with flat water. This is the perfect spot for beginners since motorized boats aren't allowed in the area.
If you want to paddle while enjoying natural landscapes, head to Travis Lake west of Austin. The Guadalupe Coast is also worth exploring if you want to discover the fields and cliffs of Texas.
7. Sunset Beach
Sunset Beach is a popular destination for surfers in Oahu, HI. However, the surf is not as intense in the summertime and Sunset Beach turns into a haven for SUP enthusiasts.
Surfing is still what draws crowds to the area, but the local SUP community is quickly developing. If you are new to SUP, Pua'ena Point would be an ideal spot to practice since it is sheltered from the ocean winds.
Once you feel more at ease on your board, you can paddle along the Sunset Beach coastline and discover the natural Hawaiian landscapes.
If you are new to SUP and want to avoid areas with surf, there are other places to explore on the island. Ala Moana is a sheltered bay with flat water. Once you are ready to try SUP with waves, head to Waikiki. There are enough waves to make your SUP experience challenging, and the waves are small enough to allow you to get used to the surf.
8. Lake Tahoe
Lake Tahoe has always been a popular spot for kayaking with its pleasant weather and flat water. The lake is becoming a popular SUP spot.
Stand up paddling on Lake Tahoe is a unique experience since you will feel like you are alone in the middle of the wilderness. This is an ideal spot for learning since the water is always calm and you can easily stay near the shore of the lake.
There are 72 miles of shoreline to explore on your stand up paddle. You will find that the landscapes change from one location to another, and you will be able to observe wildlife such as beavers, mule deer, porcupines, raccoons, and groundhogs.
9. Key West
The Key West islands in Florida are one of the best SUP spots if your goal is to spot wildlife. You can see animals such as manatees, stingrays, and many bird species.
Stand up paddling is a great way to discover the Key West islands. You can quietly approach wildlife and explore the island shores at your leisure. The mangrove forests of the Key West islands are a unique setting for SUP, and you won't see anything like it anywhere in the U.S.
If you are new to SUP, you should know that there are several Key West businesses offering SUP tours of the islands.
10. Seattle
There is a large SUP community in Seattle. Some of these SUP enthusiasts typically head to the nearby Hood River, while others enjoy practicing SUP in Seattle.
Stand up paddle boarding is a different spot when practiced in an urban environment, but it is also a new way to discover a city. Seattle is an ideal SUP destination because you can practice in spots such as the Elliott Bay, or head to the nearby Billy Frank Jr. Nisqually National Wildlife Refuge to enjoy some green landscapes.
SUP yoga is a popular activity in Seattle. You can easily find classes in the Elliott Bay area and the Salmon Bay area. Unfortunately, the weather is too cold to enjoy SUP in the winter, but a summertime trip to Seattle would be the perfect opportunity to try SUP in a safe environment.
These are some of the best spots for stand up paddle boarding in the U.S. They offer a mixture of unique landscapes, flat waters, and some spots will also offer a few challenges for seasoned SUP enthusiasts. Do you know of any additional SUP spots?